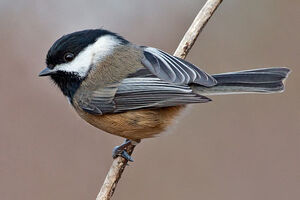 The Chickadee is the state bird of Maine.
Description
Edit
The black-capped chickadee (Penthestes atricapillus) is a small, nonmigratory, North American songbird that lives in deciduous and mixed forests.
State Symbol
Edit
Its status as the state bird was adopted by the Legislature of 1927.[1] It appeared on a postage stamp as part of the state birds and flowers series of 1982.
References
Edit