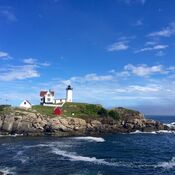 The Nubble Lighthouse is a lighthouse located in the Sohier Park in York.
Description
Edit
In colonial days mariner traffic was important to the commerce of the area. Knowing that Maine's rocky coast was very dangerous to those mariners and their livelihood, the Citizens petitioned the United States Government for a lighthouse.
In 1874 President Rutherford B. Hayes appropriated the sum of $15,000 to build a lighthouse on this "Nub" of land. On July 1, 1879 construction was completed on what, at the time, was known as the Knubble Lighthouse with a 4th order light began to protect our men and women on the sea. The men and women serving in the Lighthouse Service were the first guardians who provided great care for the light and its surrounding buildings.[1]
References
Edit