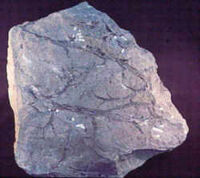 Pertica quadrifaria is the state fossil of Maine.
Description
Edit
Pertica is a genus of extinct vascular plants of the Early to Middle Devonian (around 420 to 380 million years ago). It has been placed in the "trimerophytes", a strongly paraphyletic group of early members of the lineage leading to modern ferns and seed plants.
State Symbol
Edit
Its status as state fossil was adopted by the Legislature of 1985.[1]
References
Edit