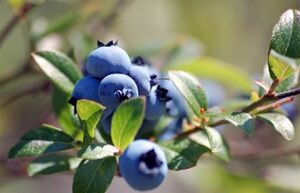 The Wild Blueberry is the state berry of Maine, and one of its important exports.
Description
Edit
Wild blueberries (Vaccinium angustifolium) are the fruits of the lowbush blueberry shrub.
They are the main ingredient in the state dessert, Blueberry Pie.
State Symbol
Edit
Its status as the state berry was adopted by the Legislature of 1991.[1]
References
Edit